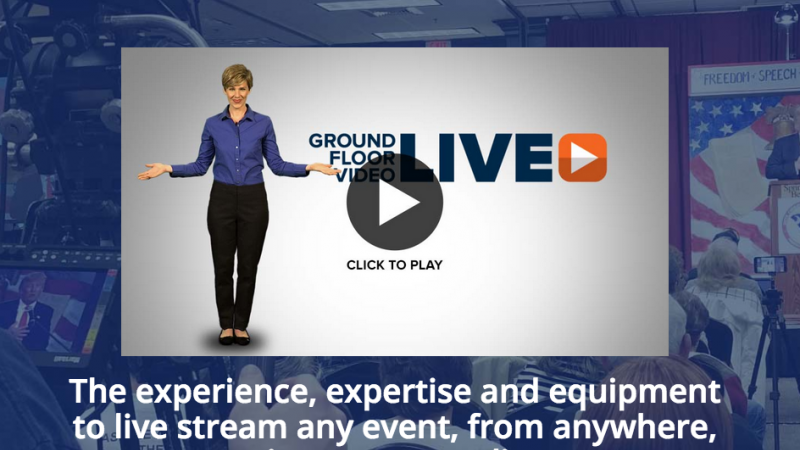 May 19, 2015
Ground Floor Video Launches Live Stream Services
Ground Floor Video announces their new live video streaming production services. After two years of working on numerous Live Stream events, building a state-of-the-art equipment portfolio and honing their skills to become the most experienced Live Stream video production company in the southeast, Ground Floor Video Live is ready to expand.
The Atlanta based company provides on-site video production services including the live streaming web platform for viewers to watch the events on-line. Ground Floor can stream rallies, concerts, banquets, debates, fundraisers, sporting events, speeches – anything that needs an audience. GFV delivers the event to any device and provides real-time feedback using social media.
Recently, Ground Floor Video has worked with new media news organizations like Breitbart.com, The Blaze and World Net Daily. But everything streamed is not always newsworthy. Streaming sales training or product roll-out information complete with power points and close-ups ensures that employees are getting the information they need. If time zones are a problem, GFV Live archives the event for immediate replay anytime.
Luke Livingston, Executive Producer at Ground Floor Video says, "We have been working with numerous clients from New York to Hollywood, Texas, South Carolina and Washington D.C. We have learned the best way to give clients a slick look to their presentation by using lower-third name supers, bump pages for in/out of the event and a floor director to keep everything on time. Basically, we are a travelling television studio that can deliver any event live to any audience."
Using one camera or multiple cameras Ground Floor Video Live can provide custom branded event pages, videos, slides or power points to roll in during the event. Ground Floor Video Live recently streamed a red carpet event for a film premiere from Hollywood complete with interview set, red carpet celebrities and post-film panel discussion. Another benefit of Live Streaming is the report of detailed analytics on viewers.
Livingston says, "Even David Letterman doesn't know who is watching, but you will. We have a few competitors out there, but we got a jump on them by starting a few years ago when the capability first came out. You won't find anyone with our level of experience. Some of our events have been prompted by breaking news and we had to react on a moment's notice. We jumped on a plane in the late afternoon and were ready to stream the next morning. We even streamed live from Donald Trump's private plane. We can be anywhere, anytime."